Qatar Workshops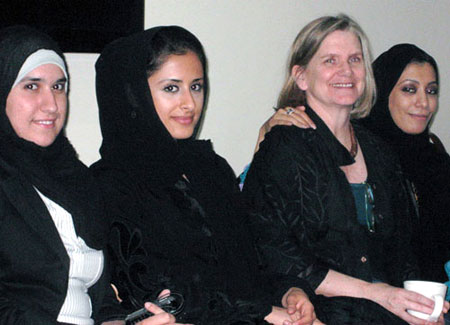 For the past five years I've gone to Qatar at least once a year. In the early years my trips were funded by the U.S. State Department (and referred to as "soft diplomacy"–a term I cherish) and the Qatar Foundation. For the last three springs I've taught at the Bloomsbury Publishing Summer Writing Institute.
In May of 2011, I taught two sections of creative nonfiction for Bloomsbury as well as a training workshop for the other faculty. The program offers tracks in fiction, nonfiction, and poetry–in English and Arabic.
One of the many highlights of this last teaching experience was having three young Palestinians in one of my workshops. When I gave the assignment on the first day to write a weather report (I read a short excerpt from Kathleen Norris' Dakota: A Spiritual Geography), one of the students wrote about getting stopped at checkpoints every morning–the dust and the lines and the fear.)
My mission: to teach the essay and memoir forms to Qatari nationals, other Arabs in the region as well as European and Middle Eastern expats.
I've produced and edited three volumes of first person essays about life in the Gulf, with more on the way.
I've given workshops at the Doha campuses of: Georgetown University, Texas A&M, Cornell, VCU, Carnegie Mellon, and Qatar University, in addition to extensive one-on-one coaching sessions with many of my students from all these venues.
I've also offered community based workshops at the Waqif Art Center, the American Women's Association, and for the library staff at Qatar University. I've given daylong workshops to members of the Doha Writers' Workshop, a group of writers from around the world who have landed in Qatar.