Recent Events
The Powerful Narrative 2010

My husband Bill Henderson, and I just returned from leading The Powerful Narrative, a four-day workshop we offer that focuses on what makes a story work—whether fiction (his domain) or creative nonfiction (mine).
The windy mountain air seemed to pump up the entire group. We wrote and read all morning and in the evenings too. We even added a couple of late afternoon sessions for more discussion about how to proceed with a gargantuan writing project—and more readings.
As Carol Dorsey, one of our attendees said, "Don't come up here thinking you're going on a chill vacation. We wrote and read and learned—a lot. And it was great."
Carol's Writing Camp for Girls
Last August (2010), I wrapped up a two-week intensive (and fun) writing camp for girls 10-12. It's a great age for girls: they are beginning to develop adult capabilities, yet they still retain the pure creative imagination and playfulness of childhood. I wanted to capture this quality and share with you what it was like, so I got my ex-documentary filmmaker husband Bill to shoot a little video at our final event, a reading at Flyleaf Books in Chapel Hill. The camp will meet monthly during the coming academic year.
Journaling in Words and Images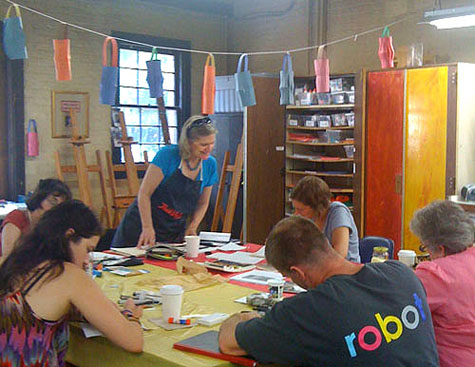 A great weekend at The Hermitage Museum and Gardens, in Norfolk, VA, joining with artist Linda Passman to present Journaling in Words and Images, a 2-day workshop in how to combine words and visual concepts to enhance the scope of your journal.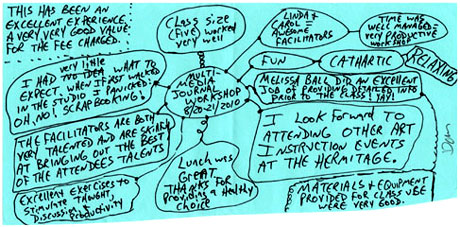 Mind mapping was part of the workshop, and one participant, Dan Corrine, chose that form to leave his comment on the workshop.
A Community of Voices, a Great Reading at Flyleaf Books
We never expected such a crowd–but the reading by 12 of my students, on a recent Sunday afternoon, filled Flyleaf Books' event room for the first of our intermittent series, "A Community of Voices." We had 100 people there to hear work from four of my workshops. The place was packed and what an appreciative audience. They clapped and laughed and cried, and all the readers––an excellent group of writers––did a terrific job.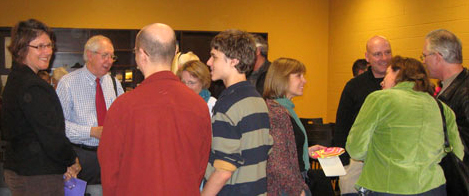 Above: the reception after "A Community of Voices," the first of a new series of readings by writers from my workshops, at Flyleaf Books.
I was especially happy that Kit Stewart's daughter Amy came, as well as Kit's husband Don. Kit, a long-time student and friend to whom I dedicated this first reading at Flyleaf, died in February after a brief battle with cancer. So many writers who had been in workshops with Kit over the years were able to talk to Amy and Don, and Amy even read a short piece by her mom.
We're having our second reading on June 13th. I can't wait.
A Recent Weekend Workshop

On a Friday night and Saturday in March, I taught another weekend writing workshop for RCWMS. We had a great time and everybody produced lots of powerful writing. What a creative group. Here's what some of them had to say.
Excellent workshop. I particularly liked the exercise where we wrote from the other person's point of view. It gave me some new information to put in the book I'm revising. It also gave me some insight into some other relationships. I also liked starting by writing. Sometimes talky introductions in a large group get boring.
–Judy Schlegel
I was challenged and stretched. I wrote in ways that were new, that I would have been afraid to try on my own.
–Robin Dorko
A wonderful mix of exercises and a delicious variety of workshop participants. You provide clear instruction, warm encouragement and you create community where creativity is developed and safety is a given.
–Jane Andrews
Carol Henderson pulls more usable, interesting writing out of me than any other workshop leader. She is a generous and amazing teacher who inspires her students and nurtures what is good in their writing. She creates a warm atmosphere in which my pen gets happy and writes.
–Jeanette Stokes