September Workshop in France, 2012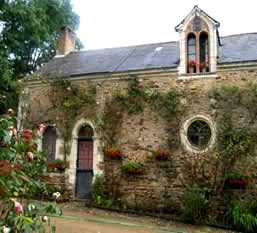 For the past four years, I've taught a week-long writing workshop in France–first in Provence, and most recently at Le Pin, in the Loire Valley of France. Up to twelve participants are fortunate enough to live and write in the magical, lush world of a private, all-our-own French Chateau.
We spend the week writing together in the mornings, using as prompts the many exquiste features of the chateau–the 12th century wine cellar, the family chapel, the topiary gardens as well as our own stories. After lunch we work independently and explore the grounds, gathering in the late afternoon for readings before enjoying exquisite French dinners and the chateau's own wines. This beautiful spot is vibrant with history and imaginative possibility and will inspire deep and vibrant creativity. You'll be amazed at what you produce at Le Pin. Our next trip is scheduled for September 7 – 14, 2012. Email me if you'd like more information.
Testimonials from Carol's France Writing Retreat

"My week at Le Pin was like a writer's fantasy camp. I wrote until I couldn't keep my eyes open, and when I woke up I wrote down my dreams. The most writing I've done, the best writing I've done, and I've been going strong ever since."
Patrick Link, playwright, New York, NY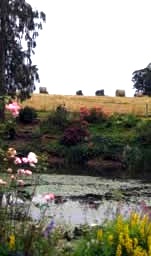 "I have just returned from an incredible week in the South of France with Carol Henderson at the helm of a writers' workshop. I can't say enough about it. The accommodations, companionship, scenery, outings, adventures and food, were only outdone by the time spent with Carol discovering hidden voices. Writing is no longer a labor, not always inspired, but always a joy. Thank you so much Carol, it was a life changing event for me. I can't wait to attend the next one."
Sandra Elliott, designer, Chapel Hill, NC

"In France, with Carol and our workshop, I found the peace and contentment with which to explore my thoughts, as well as the encouragement and support to write and share them. It was also an enormously fun time."
Liza Collins, playwright and screenwriter, Providence, RI
Chateau du Pin, the full estate, consists of approximately 300 acres of woodland with walking trails, farmland, vineyards, formal gardens, topiary, and a chapel. The chateau's central square tower with the wine cellar at its base dates to the 12th century. Le Pin wine, a cabernet franc, is made by the Delaunay winery in Montjean. The chateau burned during the French Revolution and was rebuilt with additions during the 18th and 19th centuries.
Estimated cost for the workshop is $2,950 That includes room, all meals, all workshops, and round-trip transportation from the Angers train station to the chateau. The chateau is located 30 kilometers from Angers, a stop on the TGV train from Paris and Charles de Gaulle International Airport. We recommend spending the night before the retreat starts in Angers. We'll meet those who don't rent cars.
Please eemail us with any questions you might have: Olivia at:
olivia.henderson@gmail.com, or Carol at:
cd.henderson@gmail.com