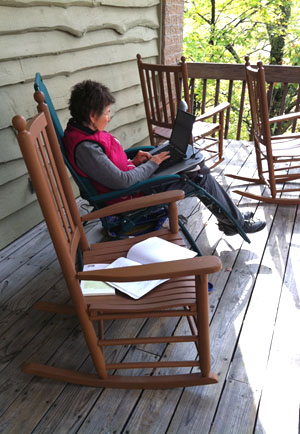 Bill and I are back from our annual Powerful Narrative Workshop, at Wildacres Retreat Center, in the stunning Blue Ridge mountains.
This was our third straight year at Wildacres, and we were fortunate to have what's probably our best group yet.
The four days of the workshop passed as one continual high, with "aha" moments happening it seemed, every few minutes. Our writers, two of whom came all the way from Seattle, all report progress and breakthroughs. (One of them, Fabienne Worth, is pictured above.)
Here's what one of our participants had to say:
"A true inspiration. Bill and Carol you certainly focused the dynamics and the chemistry that we brought to the workshop. That is an art."
– Sandy Mason, Asheville, NC
Bill and I were delighted with the group, their responsiveness, and their creativity, and pleased to see them making so many connections both on and off the page. All of which proves to us that The Powerful Narrative really is powerful, and we can't wait to offer the workshop again.