Upcoming Workshops and Events in 2014
Space for Ourselves: A Writing Group for People Living with Illness
Writing about deep and difficult aspects of life not only offers fresh perspective and meaning; research shows writing is also good for our health. In this writing group, leaders Carol Henderson and Allison Harrison will guide participants through a series of writing exercises–designed to help group members turn inward for wisdom, draw on existing literature as inspiration, and gain fortitude. We will all write about self-care, the new "normal," what illness can teach us, illness as metaphor, feeling "other," and listening to our bodies. This group provides the unique opportunity to be part of a community where we care about each other but take care of ourselves. Sharing is optional. You don't have to consider yourself a writer to participate. Sponsored by Project Compassion, a 501(c)(3).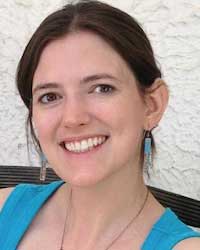 I'm delighted to be co-leading this group with Allison Harrison (left), a community social worker and writer who is herself a bone marrow transplant survivor. She completed her Masters in Social Work and Certificate in Nonprofit Leadership at the University of North Carolina-Chapel Hill, where she also received Honors in Creative Writing as an undergraduate. Allison has worked on many issues of social justice and healing, including sexual violence prevention and survivor support, HIV prevention education, and support for people with serious and chronic illness.
WHEN: 8 Thursdays: January 16th-March 6th, 7-8:45 pm
WHERE: United Church of Chapel Hill, Assembly Room A, 1321 Martin Luther King, Jr. Blvd, Chapel Hill, NC 27514
WHAT ELSE? The group will culminate in a reading at Flyleaf Books on Sunday, March 16th at 3 pm
TO REGISTER: Cost is $200. Journal and pen provided. Scholarships are available. Click here to register online at the Project Compassion website. If you'd prefer to register by mail, click here for a downloadable registration form. If you have questions, contact Allison allison@project-compassion.org or call 919-619-4873.
____________________________________________________
My winter nonfiction writing workshops will start mid-January. Please email me if you'd like to be on the wait list.
____________________________________________________
Each year, in March, I offer a weekend workshop in Durham, North Carolina, sponsored by the Resource Center for Women and Ministry in the South. Hope you can join us.
Short Takes on the Self: A Writing Workshop
Through carefully selected prompts, we will explore watershed moments, life themes, and the evolution of our sense of self. We will plumb memory, dreams, and point of view–using what we unearth to write more deeply, find far-reaching meaning, and create compelling stories and essays. Come prepared to write a lot and to be changed by what you discover. This workshop is open to writers in all genres and all levels of experience. Open to men and women and not limited to those in ministry.
Friday, March 14, 2014, 7 – 9 pm; Saturday, March 15, 9:30 – 3:30.
Fee: $125
Register online here.
For more information, contact RCWMS:
rcwmsnc@aol.com
____________________________________________________
Recently
The Powerful Narrative: A Writing Workshop
We had a terrific group of writers at Wildacres Retreat Center in September.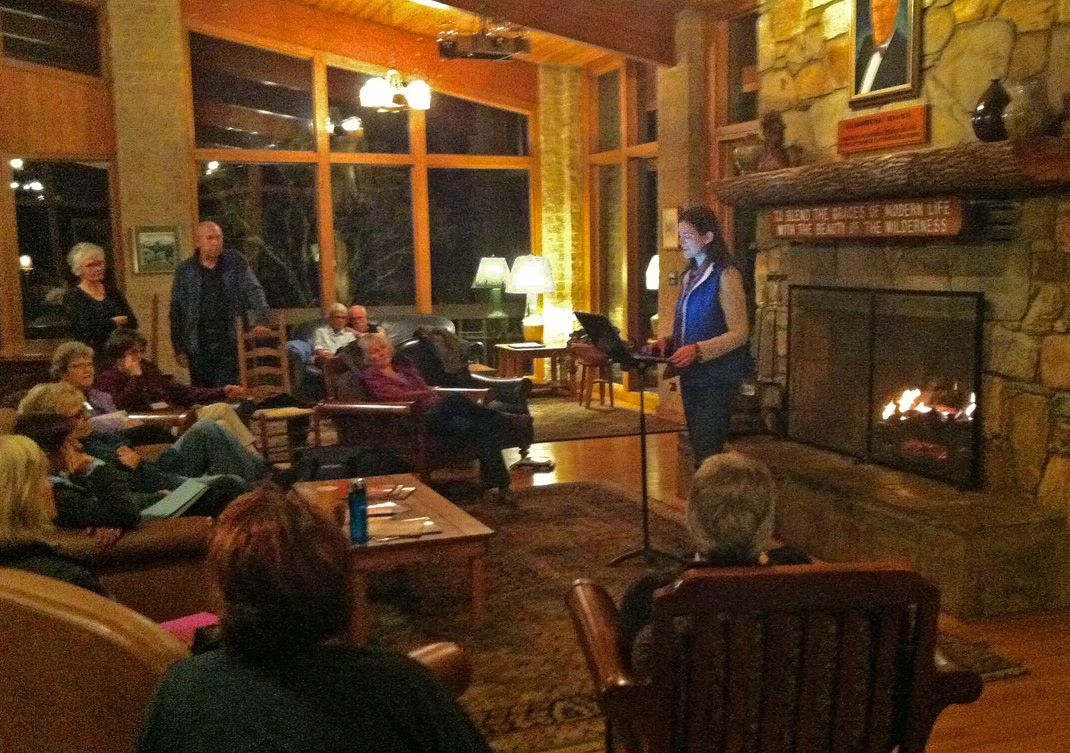 Workshop participant Allison Harrison reads at "The Powerful Narrative."
____________________________________________________
Carol's fall workshops began on October 1st.
These workshops are full. Email Carol for more information and to get on the wait list. cd.henderson@gmail.com
____________________________________________________
Mining for Gold: Journaling into a Deeper Life with Carol Henderson
June 24 – 28, 2013
Meredith College, Raleigh, N.C.
NOTE: THIS WORKSHOP IS FULL
For more info or to be added to the waiting list, contact
Ashley Hogan at Meredith: hogana@meredith.edu
The description below is accurate though I want to let folks know that I'm completely changing the format this year–adding lots of new material and prompts. So if you've taken this workshop in the past two years you might want to consider coming back. It's going to be different, still lots of fun–and lots of writing!
Keeping a journal is one of the most productive of all methods for reconsidering our world, preserving our experiences, and exploring our deepest selves. On the pages of a journal we can let our inner voices reign while we develop our writing skills. It's through this kind of "deep diving" into creative projects that we find ways to tell our own life stories. Experience first-hand how journals can help us come to terms with our pasts, discover joy in the present, and transform our futures. Unlocking the full power of this multi-purpose tool, we'll explore memory, point-of-view, dreams, life chapters, character portraits, poetry, dialogues with aspects of ourselves, and more. We'll acquire new techniques to enliven our writing with fresh, new ways to view our lives and creative selves. And as always, since the emphasis is on process, not product, come prepared to write.
____________________________________________________
Farther Along: Writing Toward Reflection, Self-Awareness, and Healing
Carol Henderson Workshops LLC, Project Compassion, Duke Health and Home Care, Heartland Hospice, Hospice of Wake County, Chapel of the Cross Episcopal Church, Sandra Jarr, and the Inavale Foundation presented an exploration of how writing can help manage the pain of grief by awakening new personal awareness and offering transformational shifts in perspective in oneself and others. A day-long symposium for both lay people and professionals. Thursday, May 16, 2013.
____________________________________________________
Symposium, Readings, and Panel Discussion
Saturday, April 27, 2013
Two events: 10 a.m.– 12 p.m. and 2 p.m. – 4 p.m.
Sponsored by The Michael Yang Foundation and hosted by the Literary Book Post, 110 S. Main St.
Salisbury, NC 28144
Some of the women who are part of the Farther Along group gathered with participants to write in the morning symposium and for readings and a panel discussion in the afternoon. Phyllis Keels of Salisbury wrote about the symposium: "The exercises, at first blush, seemed easy, but they were so much harder than I thought. Hard in a good way. They helped me process aspects of my daughter's death in a new and healing way. Thank you for doing what you do. You are making a difference in people's lives–namely mine."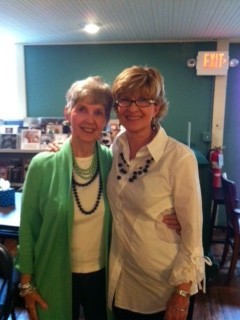 Sandra Rogers (left), who checked Farther Along out of her local library 5 times, with Beverly Burton, the mother in the Farther Along group who organized the Salisbury symposium.
____________________________________________________
Those Who Shape Us:
Character Portraits of the Important People In Our Lives
April 19, 2013, 7-9 pm, April 20, 2013, 9-3
Cost $165.00
Raleigh NC (THIS WORKSHOP IS FULL)
In this workshop, we will learn to create full-blooded portraits of friends, family members, mentors, and ancestors, those we love, miss, admire––or those we hold in awe, fear, or even condemn.
Using a simple organizing structure, we will evoke the specific gestures, images, and dialogue to make our subjects seem to "jump off the page." We will explore their quirks, passions, successes, failures, and moral imperatives. Through close observation, using both the child's and adult's point-of-view, we will gain new insight into ourselves by deepening our understanding of those whose presence in our lives has shaped us.
This workshop is open not only to experienced writers of all genres but also to those whose primary goal is to create legacies through writing: portraits in words of the people in their lives who matter.
Participation is limited to 12 people. Please make checks payable to Mamie Potter and mail to me at 3134 Eton Road, Raleigh, NC 27608. No registration forms are necessary. For info: mamiepotter@gmail.com
____________________________________________________
Writing Toward Healing: A Weekend of Writing Workshops
April 12 – 14 in Richmond, Virginia
sponsored by Noah's Children
____________________________________________________
Creating Stories to Keep: Unearthing the Secrets of Powerful Narrative
March 15–16, 2013, Durham NC
A good story, like a good garden, cultivates the "wild permissiveness of the inner life" (poet Stanley Kunitz). In this two-day workshop, we will learn to give voice to our own wild inner lives through a series of craft exercises. From deep within us, we'll pull stories we had no idea were there, and learn to mold them into narratives with energy and momentum. Come prepared to write a lot. Come expecting the unexpected. Come knowing you wilkl leave with a deeper feel for story anatomy–and plenty of robust material to work with. Open to writers of all genres and levels of experience, men and women.
Sponsored by RCWMS.
Comments from participants:
"When you're in a workshop with Carol, you know you're in good hands. You relax into writing and therefore write your best." Sherryl Kleinman, Sociology Professor, UNC
"Carol brings heat and passion for writing and writers. I feel totally inpsired and encouraged, supported and quickened as a writer. She paced the combination of writing and reading beautifully and masterfully combined the teaching of craft with the unleashing of creativity."
Neesa Moloney, neesathrives@gmail.com
"This was a workshop that was both safe and stretching, generous and supportive, low key but serious about the craft of writing. Highly recommended."
Russell Colver
"This was my first writing workshop ever. It could not have been better. Carol is a writer's dream. She is knowledgeable, funny, quick-witted, good-natured, real down-to-earth. I laughed. I cried. I wrote a lot. I had a blast."
Rachel Kasmitis
Care Net Counseling invited us to offer a mini symposium as part of their annual meeting, at Winston-Salem, on Friday, November 16. In attendance were all the psychologists and staff from the organization.
Kathy Shoaf, a member of our group who had sought counseling through Care Net, told the 100 assembled attendees about her family's positive experience working with Care Net.
I then led the assembled staff and psychologists in several writing exercises for their own personal enrichment and to use with their clients. We ended the afternoon with a panel discussion featuring members of our group on the role of writing in our healing journeys.
On Saturday, November 10, I led the second of two morning workshop at Hospice of Winston Salem, 9:30 – noon. We're planning to offer a series of workshops again next fall.
On Sunday, November 11 several of us from Farther Along: The Writing Journey of Thirteen Bereaved Mothers, read at McIntyre's Books, in Pittsboro, NC, at 2 pm. We had a lively discussion after the reading.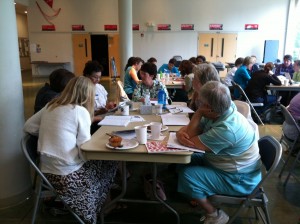 I led an all-day symposium,"Farther Along: Writing Toward Healing" at Hospice Support of Fauquier County, Inc. VA, on Saturday, November 3. The symposium was based on principles I've written about in my book, Farther Along: the Writing Journey of 13 Bereaved Mothers.
Maritta Gotz and Gil Brooker of Hospice Support organized a seamless day in a beautiful venue. We all enjoyed the writing and readings. Special thanks to the women from our book, Farther Along, who helped out and sat on a panel about the role of writing in their healing journeys: Betsy Anderson (she lives nearby and initiated the workshop), Dottye Currin, Kay Windsor, and Peggy Clover.
Our generous sponsors included: Fauquier Bank, Randy Minter, Moser Funeral Home, Village Flowers, and Harris Teeter.
Friday-Sunday, October 26-28, 2012
I taught at a writing retreat in the Blue Ridge Mountains of Virginia, for a privately invited group of women. We had a glorious time. This weekend the place will be covered in snow.
Saturday, October 6, 2012
I led an all-day "Writing Toward Healing" workshop in Richmond, Virginia, sponsored by Noah's Children.
Thursday, October 11, 2012
I moderated a panel discussion at Hospice in Winston-Salem, on the benefits of reflective writing. The panel included members of the writing group I've led for the past 10 years–the women featured in my book, Farther Along: The Writing Journey of Thirteen Bereaved Mothers.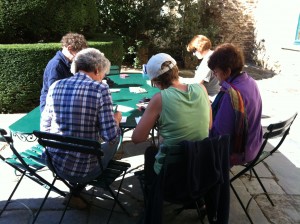 Friday, October 12, 2012
I led a similar panel in Charlotte, NC at KinderMourn
Saturday, October 13, 2012
I was back in Winston-Salem, at Hospice to lead a morning writing workshop, this one open to anyone suffering the loss of a loved one.
As these workshops continue, I hope you can join us. I will be listing future events here on my website. And be in touch if you're interested in hosting a writing event in your community.
More updates soon!